For Parents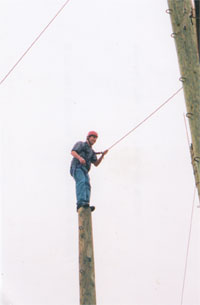 This is a residential camp that is run by the University of Wisconsin at Steven's Point.
It is held at the Central Wisconsin Environmental Station (CWES) which is located on beautiful Sunset Lake and is a year-round environmental education center and residential facility. Unlike other leadership camps, that have large volumes of participants, the Areté Experience is a boutique immersion process that explores life skills, imagination, creativity and general human potential. Our limited enrollment affords us the opportunity to personalize the leadership experience and eliminate the need for pre-existing formulas for leadership training. Rather we assist each participant in learning about their individual strengths and weakness and then create a personalized formula for their success. By doing so we allow optimism to develop and create inspired and resilient youth. The learning process at Areté is primarily experiential in nature and involves low and high challenge courses, though the curriculum is designed to be challenge by choice. Returning participants are eligible to experience mentorship roles.
The Areté Experience is really about being around a peer group that explores their sense of self and develops an ability to be open to possibilities and creativity and by doing so they foster a solution focused approach to living their life. Once the Areté participant experiences live personal contact with peers and makes life-long friends the old fashioned way, they will transform in unexpected ways from the Areté experience throughout their adulthood. Previous participants have described their week at Areté as Utopia. For a week in their life, they experience the possibilities of their personality in an environment that is encouraging and accepting.