Mentors/Mentee Program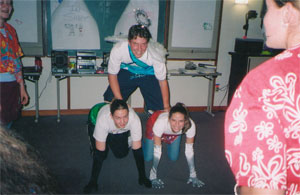 One of the stand out aspects of Areté is the Mentor program. A Mentor in Areté is defined as a trusted friend, usually a more experienced person or an influential senior supporter. Mentors help improve a young person's self-esteem. They teach Mentee's how to relate well to all kinds of people by strengthening communication skills. Overall, mentors provide support for students trying new behaviors or different aspects of their personalities. The process of mentoring assists in the activation of achievement potential; the relationship helps blossom hidden potential within the partners. The Mentor/Mentee relationship is a synergistic experience that fosters growth between the two individuals because it is rooted in commitment of mutual growth. . Areté mentors continue to build on the emotional competencies they have developed by guiding participants and themselves through transformational learning. The positive, open and accepting environment allows for new ideas and self-discoveries to be experienced.
Each participant of Areté is paired with a Mentor that will best suit their needs and personality. Mentors are previous participants in the Areté program who have returned for another level of the Areté Experience! This is a competitive position and well sought after and is open to all participants who have completed the Areté Experience at least once.

Mentees are newcomers to the program and are paired with more experienced people, who advise them and serve as examples as they advance.