FAQ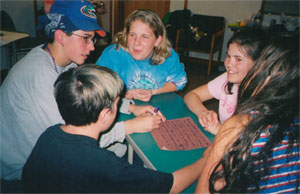 Who can attend Areté ?
Areté is open to teenagers who are 13-17 years old.
What does the cost of Areté?
The tuition covers the camper's housing, meals, snacks at camp, and T-shirt.

Where will Areté be held?
Central Wisconsin Environmental Station (CWES) 10186 County Road MM, Amherst Junction, WI 54407
(http://www.uwsp.edu/cnr/cwes/)
What is the food service like?
There are three meals a day and are served the CWES cafeteria on site.
What about special dietary needs or allergies?
Special dietary needs are accommodated. Campers with special needs must advise Arete staff about such needs through the Health Form and upon arrival to camp.
What does a typical day look like?
Each day will be full of learning opportunities and recreation time. The schedule can be variable depending on the group and the participants. Below is a schedule to provide insight into a typical schedule. Certain events may be added or deleted depending on the group and any other circumstances such as weather.
At what Age do Campers benefit most?
All ages benefit from this experience. There have been participants who have returned and completed over 10 Areté experiences. There is always something to be learned at any age and the process of growing and changing is an on-going event in all of our lives.
What if a camper is reluctant to go?
It is normal for participants to feel apprehensive about attending such a camp or any experience where the fear of the unknown can immobilized a person. We have had participants who very resistant to attend and it does take a day for them to acclimate to the experience. However, in 20 years of conducting such experiences, I have never had a resistant, defiant, angry or stubborn participant not turn the corner. In fact, most students do not want to leave Areté when it concludes. The connections that are forged here are life changing and life-long.
Here is some insight into a participant who was reluctant to attend:
Below is an excerpt from a study done on a retrospective look at participating in Areté. The writer is a student who initially did not like the idea of "having to attend" this program.
"It was definitely more of a personal growth program. And the beauty of the program is everybody grew differently during the program, and everybody learned something new and different about themselves, even if they didn't fully realize it at the time. The reason to go is that it will be life altering. It won't 'rock your world' , in the sense that you won' t have a singular moment where your entire viewpoint and idea of self is suddenly and irrevocably altered, rather it will take the plane of your understanding and slightly and subtly shift it, without your full realization, understanding, or even permission, and only later, when you look back upon the path of your life journey will you come to fully understand and appreciate the small but influential nudge that Areté made in your life orbit."
What are the qualifications for the Adult and Mentors?
Mentors must have attended Areté have participated in a responsible, respectable and mature manner. The adults in facilitation roles all must have completed Areté and have a minimum of a Masters or Doctorate.
Will Teens have Free Time for Activities?
Yes, the Participants will have time to swim, hike, relax, play sport or any other fun activities including a talent show. It is recommended that if your child has an interest in anything (e.g., music, singing, magic, book reading, etc…) that they bring along their instrument or any other item to assist them in showing off their talent at the show. I have heard many participants claim how they do not have talent. If your participant thinks that they do not have talent we will absolutely find the talent they did not know they had. Twenty years of finding talent, I have never been wrong.
What are the Housing Arrangements while at Areté ?
During the daily activities all participants are together. At night males will be in a male dorm and females in a female dorm and adult and youth staff members are staffed accordingly.